CARNEY
The name Kearney is evenly distributed throughout the four provinces of Ireland; the alternative spelling Carney, however, is almost entirely confined to Connacht Province, particularly County Mayo. The latter are O Cearnaigh in Irish (presumably from cearnach, victorious) and are a branch of the Ui Fiachrach whose territory were named Moynulla and Balla in Co. Mayo. The Dalcassian O'Kearneys, who migrated to Cashel in early times, are also O Cearnaigh. The most important Kearney sept in history are of different origin. In Irish their name is O Catharnaigh. They were chiefs of Teffia, Co. Meath, and even when their influence diminished they retained a considerable territory in Kilcoursey in Co. Offaly. One of them became Baron Kilcoursey. The Meath Kearney's are usually known as Fox, the head of the family being styled "The Fox". This arose from the fact that the cognomen Sionnach (fox) was applied to their eleventh century ancestor. For further particulars see the entry for Fox, above. Quite a number of alternative forms are used in English besides Carney, including Keherney, O'Caherney and (in Co. Cavan) McCarney. There is a townland called Ballymacarney in Co. Meath.
Early Carney settlers into North America were William Carney who settled in Virginia in 1650; Timothy Carney who settled in Virginia in 1751, Easter Carney who settled in Virginia in 1752 and Mary Carney who settled in Pennsylvania in 1773. Five Kearney's of Irish origin appear in the Dictionary of American Biography in the sphere of politics, literature and war. Seven notable ecclesiastics called Kearney lived and worked in Ireland, of whom Rev. Barnabas Kearney, S.J. (1567-1640), David Kearney, Archbishop of Cashel from 1603 to 1625, and the Protestant Rev. John Kearney (1542.1600), author of a Catechism in the Irish language, may be specifically mentioned. In France the Abbé Charles Kearney (c. 1745-1820) was a prominent anti-revolutionary at the time of the French Revolution.
The family of John Kearney of Fethard, who was secretary to James II, was very prominent in French court and legal circles during the eighteenth century.
Source: Edward MacLysaght Irish Families, Their Names, Arms and Origins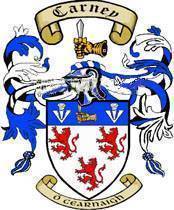 The O'Kearney / Kearney / Carney Armorial Arms & Crest
Blazon of Arms; Argent (silver), three lions rampart Gules (red), on a chief Azure (blue) between two pheons of the first, a gauntleted hand fessways or holding a dagger erect proper, pommel and hilt Or (gold).
Translation; Ermine (fur) is the emblem of Dignity. Gules (red) denotes Military Fortitude and Valor. Vert (green) denotes Hope and Joy. Argent (silver) signifies Peace and Sincerity. Azure (blue) represents Loyalty and Truth. Or (gold) denotes Generosity and Intellect. The lions denote Strength, Courage and Majesty.
Crest; A gauntleted hand holding a dagger as in arms.
Motto; "Sustine et abstine", (Sustain and abstain)
O'Kearney or O'Cearnaigh is derived from the Gaelic word "cearnach" meaning "victorious".
Research Disclaimer - I have carefully researched my direct lineage and many of the indirectly related individuals in my ancestry, and have presented the best known and most likely results. However, most of my information has been compiled from sources available to the general public, which may not always be precise and will always be subject to conjecture and speculation, as well as misinformation by the original documentation.
Let me start! Click here for Search of Ancestors
or... Return to Front Page