CARNEY DNA
DNA can lead to confirmation of your lineage, and also lead to surprising results. Jim was participating in the Carney DNA research project and had undertaken the 37 Y Chromosome marker test in 2005. This project was being updated by "The MS Carney Girls". Jim's Y Chromosome test results published back then confirmed many lineages but also led to some confusing results.

What does this male marker DNA tell us? A brief summary - Jims male lineage is related to such non-family surnames as: Adams, Cogan, Cohen, Casey, Copher, Cooper, Goggin, Harris, Jones, Koons, Sizemore, Smith, and Townsend in addition to the Carney/Kearney ancestry. The highest frequency of this lineage occurs in Connaught, Ireland maybe back as far as 700 years ago. But what was surprising was there was no confirmed link to the native American Indian that was supposed to be on Jim's maternal side. Jim's GG Grandfather George W. Anderson was supposed to be 1/2 Cherokee or Osage Indian. However, the test 17 years ago showed it could not be confirmed that Jim had an Indian bloodline. At the time, the lab said there were not enough indigenous native North American Indians in the DNA database to know what to look for.

Then, once again Jim took a new DNA test in 2020, 16 years later. Now, they assured me - the new testing lab at Ancestry had plenty of data to come to a better certainty on the Indian lineage with a few thousand native American Indians had now submitted DNA for testing. The new test resulted in the table below:

| | | | | | | | | | |
| --- | --- | --- | --- | --- | --- | --- | --- | --- | --- |
| Locus | DYS388 | DYS390 | DYS391 | DYS392 | DYS393 | DYS426 | DYS437 | DYS438 | DYS439 |
| Allele Value | 13 | 24 | 11 | 13 | 13 | 14 | 15 | 12 | 13 |
| Locus | DYS441 | DYS442 | DYS444 | DYS445 | DYS446 | DYS447 | DYS448 | DYS449 | DYS452 |
| Allele Value | 13 | 12 | 12 | 12 | 13 | 25 | 19 | 32 | 11 |
| Locus | DYS454 | DYS455 | DYS456 | DYS458 | DYS460 | DYS461 | DYS462 | DYS463 | Y-GATA-H4 |
| Allele Value | 11 | 11 | 16 | 16 | 11 | 12 | 11 | 22 | 12 |
| Locus | Y-GATA-A10 | DYS389I | DYS389II | GGAAT1B07 | DYS19a | DYS385a | DYS385b | DYS459a | DYS459b |
| Allele Value | 13 | 13 | 29 | 10 | 14 | 11 | 14 | 9 | 10 |
| Locus | DYS464a | DYS464b | DYS464c | DYS464d | YCAIIa | YCAIIb | | | Haplogroup |
| Allele Value | 14 | 15 | 16 | 17 | 19 | 23 | | | R1b |
What does this newest outlook tell Jim? According to Ancestry and My Heritage ancestry sites who interpreted the new DNA, his 2nd great grandfather George W. Anderson was 25% to 50% central African, from the upper area of the Congo. There was no Indian heritage enough to show up as a marker. The only native American Indian now left in Jim's line was so far back to his 6th great grandmother Gi-Yo-Sti-Ko-Yo-He BIRD CLAN which would make Jim only .3% Indian.

So, now we know that George had claimed to his friends and family he was part Indian, but in reality he was probably the result of a black slave and white Irish offspring (thus the dark skin, darkened red hair) with a father and mother he refused to speak of. You see, being the son of a black interracial relationship was not popular in the South and better to explain your dark skin by claiming Indian heritage. He assumed the name Anderson, when he rode at 16 and 17 years old with Bloody Bill Anderson during the Civil War and in his striving for acceptance participated in scalping in and killing of prisoners. George and his cousins Frank and Jesse James are listed with another viscous unit belonging to the Qantrill Unit, early in the war.

The violence continued in the family when George was killed by an axe or tomahawk in 1899 as reported in the newspapers after the war, and his son William Anderson was arrested for the murder. It couldn't be proven his son killed him and he was released. Unfortunately later, his son committed suicide (maybe over guilt). George's other son, James W. Anderson - my Great Grandfather, also hanged himself on Christmas day, 1951; which is why my mother said she was always sad on Christmas day reflecting on the tragedies of the past. An unfortunate outcome to Jim's maternal line.

So, to get back on track - Jim's line:

Jim's DNA looks most like DNA from these 9 world regions
They compared his DNA against a worldwide reference panel to see which populations his DNA looks most like.

This DNA links back to various ordinary and extraordinary people. You can see some of the royal lineages Jim is linked to on this Royal Lineages and Links page.

Lois Carney, Jim's wife has also had her mtDNA line tested.

Lois' Ethnicity Estimate mtDNA Lois Ann (Wehofer) Carney


Another surprise in the genetic lineage: When my son married some 20 years ago, I checked the lineage of his new bride to be. Even though our families in the US were barely ever in the same state and didn't know of each other, my son Eric Christopher Carney's bride Abby (Caroline Abigail Gruver) had a common Great Grandfather to myself and my son. My 18th great grandfather and grandmother were also the great grandparents of Abby and her Gruver family. See my Legacy genealogy screen shot below for my relationship (thank goodness for auto calculate on relations and mapping):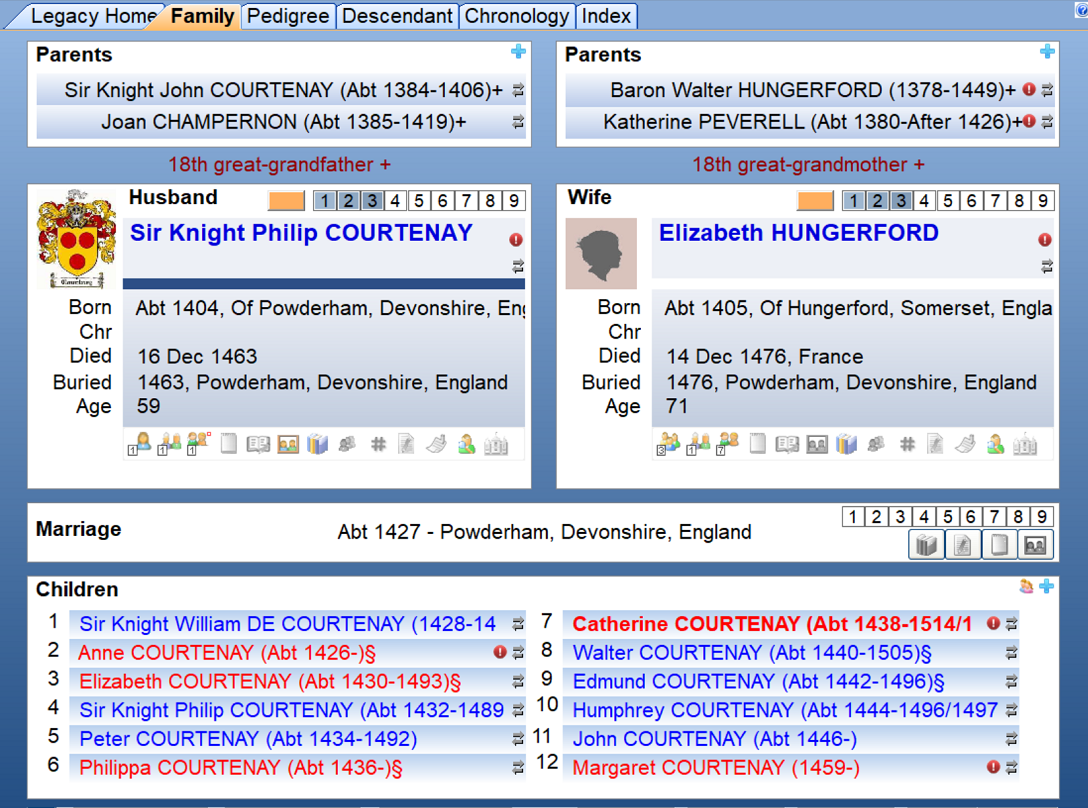 So, Abby, my sons wife now, is my 18th Cousin, once removed, going way back to the 1400's with Sir Knight Philip Courtenay and Elizabeth Hungerford. We have at least 20 common ancestors from there, going back. I'm sure going back 20 generations is not a risk of birth defects, but I have found plenty of cousins not too far removed who have married their first cousins (which doubles risk of birth defects).

Honestly? You probably do have royal ancestry too

Hereís the whole truth: itís actually pretty unlikely that you donít have royal ancestry.
Itís simple math. Each generation you go back, the number of ancestors you have doubles. If you go back 10 generations, thatís already 1,024 ancestors. If you go back 20, youíre at 1,048,576! Yale statistician Joseph Chang showed that when you trace ancestral lines back far enough (for example, 32 generations or 900 years), youíll find that everyone alive today has at least one common ancestor. He also showed that in Europe, you only have to go back 600 years to reach that point.

Donít forget non-European royalty
Europe was not the only place with powerful rulers! If you have roots elsewhere, such as central or east Asia, South America, or North Africa, you could be related to such figures as Genghis Khan, King Tutankhamun, or one of a number of Chinese emperors.
A genetic study published in 2003 found that one in every 200 men all over the world are directly descended from Genghis Khan, the 12th-century Mongolian emperor who founded what became the largest contiguous empire in history. Research has also found that many people in Peru are descended from Atahualpa, the last Incan emperor. Scientists at iGENEA, a DNA genealogy center based in Zurich, reconstructed King Tutís DNA and found that half of all men living in western Europe are related to him ó including 70% of men in Great Britain!
I hope you enjoy some examples here and are fascinated by your genealogy exploration!

Let me start! Click here for Search of Ancestors
or... Return to Front Page